Cruise Job Fair - Madrid 2018
Map & Directions
Address
Rafaelhoteles Atocha
Méndez Álvaro, 30
28045 Madrid
Spain
The Venue
Rafaelhoteles is a modern hotel located close to all public transport links, just outside the Atocha train station. The job fair will take place in Room Atocha on the ground floor.
Directions
Enter the hotel via the main entrance. You will see the large "Cruise Job Fair" banner. Walk through the hall and turn right. Room Atocha is at the end of the corridor.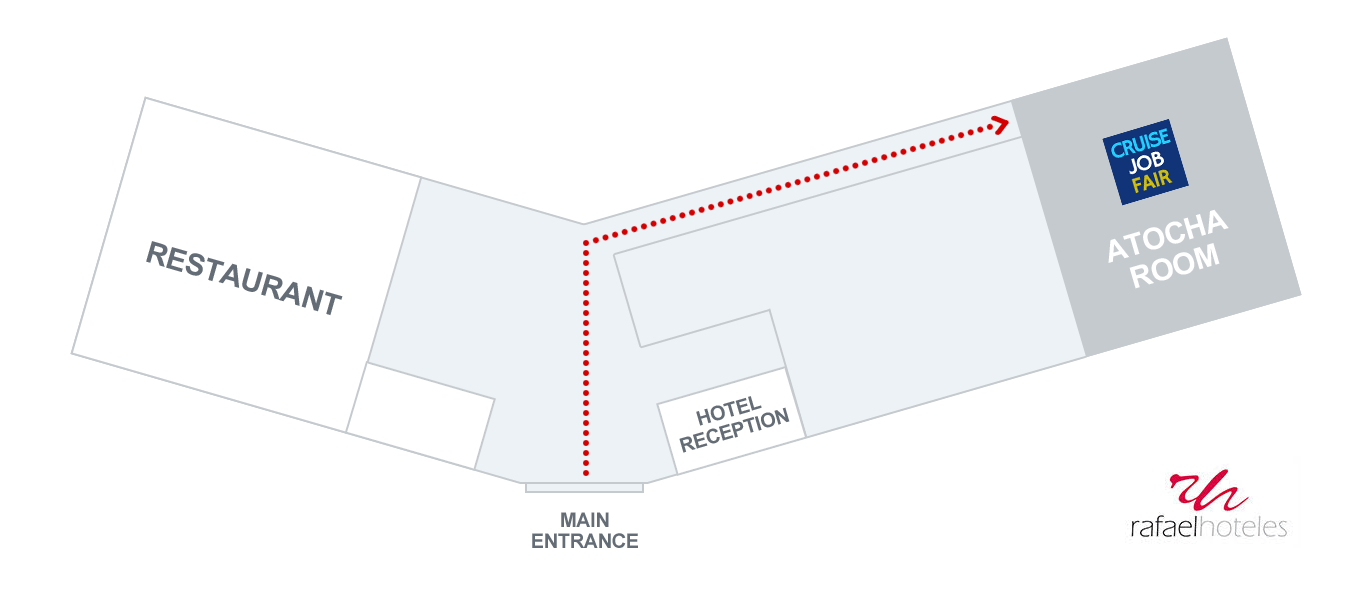 How to get there
Madrid's largest train station is Atocha, situated right next to the venue. The station has excellent public transport links from all parts of Madrid including the airport and many cities and regions in Spain and other countries.
When you arrive to the Atocha station, you can take the exit marked as "Salida Méndez Álvaro", then turn left as you leave the train station building and walk for about 400 metres to reach the hotel. Alternatively, walk aroun the station to Calle de Méndez Álvaro where the venue is located.
By underground (Metro)
The hotel is a short walk (12 mins) from the Atocha, Atocha Renfe and Méndez Álvaro underground stations. Download the map of Madrid Metro:
By plane
There are direct buses from Madrid airport's Terminal 1-3 to Atocha train station (€5 for a single ticket). Terminal 4 is served by direct train to Atocha station.
By train
Trains from many cities in Spain (including Barcelona, Cordoba, Malaga, Seville and Valencia) arrive to Madrid Atocha train station.
By coach
The nearest coach station is Méndez Álvaro, just 14 minutes' walk from the venue.
By car
Use the following coordinates in your satellite navigation:
Latitude: 40.40145 | Longitude: -3.68712
The hotel has a car park available to the visitors. There are also many options for on-street parking nearby.
More Details
Find further location details on the Rafaelhoteles Madrid Atocha website.